Jan 14, 2022 Amy Moffatt
My TOP 25 free and healthy Things To Do in London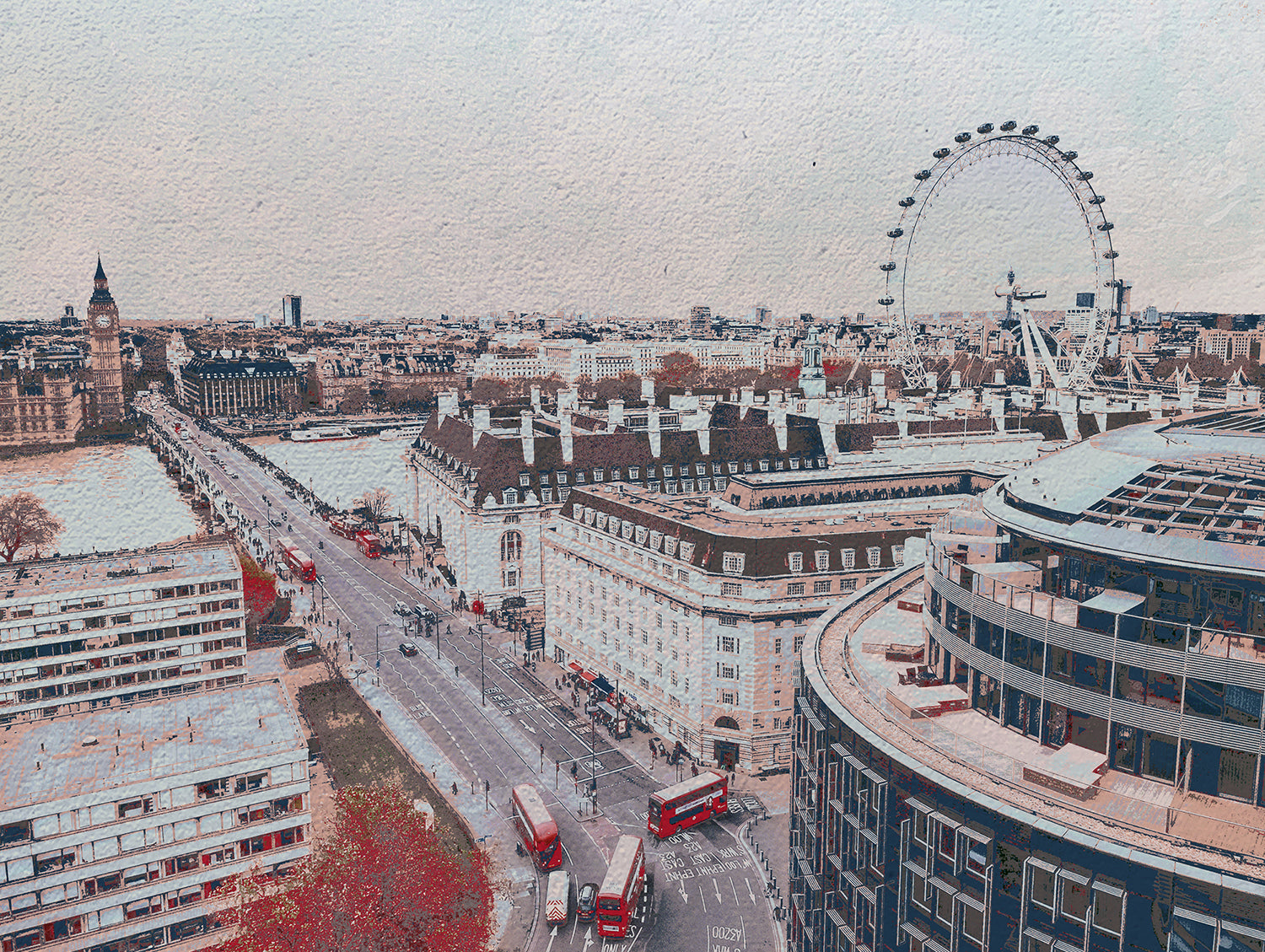 I don't know about you, but I am certainly feeling the pinch both on the waistline and in the wallet after this recent festive season (cue intermittent fasting and some free local activities!).
Work-wise, I have spent this week creating my brand new London Map Art Print (which matches my very popular London Skyline Art Print), and this inspired me to put together a somewhat quirky guide to the best free and healthy things I like to do whenever I'm in one of the world's most expensive cities (ahem, yes London I am looking at you).
Before I start though, I can't go past some of the super famous free activities to do whilst you're in the Home of Big Ben. My personal top 3 free museums, for example, are definitely the Natural History Museum (who doesn't love some huge fossilised animal skeletons), the British Museum (worth it even just for the architecture alone), and… me being a total design geek, I of course can't go past the Design Museum  ~ So be sure to check these options out, as day spent wandering a museum helps get your steps in for the day too.
Now most of my list below are things you WON'T find in your regular guide books or tourist websites. Off the beaten track, hidden gems, quirky curiosities, unique experiences, historical deep-dives and how to experience nature in busy ole London Town.
So if you're planning a winter London trip anytime soon, or even if you're a Londoner yourself needing some new weekend inspiration, you can't help but feel motivated by this list of unique free and (sometimes!) healthy city activities. So in no particular order, off we go!

A truly unique outdoor experience (provided London weather co-operates!), I could spend hours strolling the overgrown gardens set within the ruins of this Wren church. The stunning green oasis is the perfect spot for reading a book on a picnic blanket, or being inspired to create some botanical nature sketches in your journal. You will certainly feel like you have stepped into another (very un-London) world. 
Image credit: secretldn.com



In the complete opposite to anything natural, a place that can be described as a Neon Narnia, Gods Own Junkyard is where neon never dies ~ an Aladdin's cave of lights and the brain child of Chris Bracey, lovingly known as the Neon Man for 40+ years. This warehouse in Walthamstow contains a ever-glowing neon art gallery, cafe, bar and shop ~ no wonder their electricity bill is £3,000 a month to power it! It's sure to dazzle your eyes and make you smile, especially if you're a lover of all things quirky, bright and vintage.
Image credit: timeout.com
And now, step back in time in a different way, with this 21st Century take on the classic Victorian cabinet of curiosities, located in East London. Half theatre, half sculpture, FULL of weird vintage curiosities, this living breathing hybrid shop / museum is part creepy, part fascinating. A great rainy day activity and one that will certainly be memorable for your kids!
Image credit: Telegraph.co.uk 
On the note of kids, if you have any Harry Potter afficianados (of any age!) in your group, you can't pass up a visit to Platform 9 and ¾ in London Kings Cross Station. Depending on the time you visit, there may be quite a crowd, so try to time it well to get the best photo ops.
Image credit: Wikipedia 
If you're like me and love outdoor art installations, you can create your own slightly bizarre walking tour by hunting down the Seven Noses of Soho. In 1997, as an act of protest against the appearance of CCTV cameras across the streets of London, the artist Rick Buckley made and secretly installed these plaster-casts of his own nose around Soho. A quote from artist ~ "I wanted to see if I could get away with it without being detected." Well he may have done it secretly at first, but now these noses have become a quirky addition to the city art scene, and you can find a suggested walking tour here.
Image credit: Atlas Obscura
A bookshop? A boat? Two of my favourite things combine in this epic little floating bookstore. Open daily and offering indoor & outdoor shelves packed to the brim with a wide variety of titles, I could spend hours flicking through the pages of these (often dusty) fiction and non-fiction, vintage and modern tomes. Combine that with a picturesque canalside setting, it's hard not to fall in love with this quirky spot.
Image credit: kingscross.co.uk 
Want to escape the England vibe? Well who needs an overseas trip when you can step into a tiny Japan right here in the city? This unexpected slice of Japanese zen in the heart of London features stunning trees, stone carved sculptures, trickling waterfalls and even a flock of roaming peacocks. Escape from the city chaos into this stunning oriental oasis.
Image credit: secretldn.com 

If you're in need of even more nature time, another hidden inner city oasis is the Barbican Conservatory. Navigate your way through the maze of walkways, stairs and tunnels of the Brutalist architecture of the Barbican, and you will find a place where Mother Nature has started to reclaim the manmade ~ lush foliage, greenery and beautifully-kept flower beds peeking out from huge slabs of concrete ~ this place is truly unique. Free tickets are required to enter so be sure to grab yours to wile away some hours in this magical jungle.
Image credit: barbican.org.uk 
Ok so this not-so off-the-beaten-track spot is pretty famous, but I couldn't NOT mention this bustling Sunday market in Bethnal Green ~ bursting to the seams with colour and the beautiful perfume of thousands of flowers ~ where you can buy everything from banana trees to bedding plants. Even Columbia Road itself is full of character ~ made up of sixty independent shops, such as small art galleries, cupcake shops, vintage clothes stores, English and Italian delis, garden and antique shops, as well as a diverse range of great pubs, cafes and restaurants. The common thread? A refusal to be dictated to by a huge commercial retail world, a street where independence and small businesses reign supreme. So for those who love giving the finger to the massive, less than ethical international brands, this place is not to be missed.
Image credit: thehappykamper.com 
Another not-to-be-missed and definitely NOT secret market, this iconic institution is the largest antiques market in the world. Rummaging for treasures in west London's Notting Hill has to be one of my favourite London pastimes, and I still hold dear to my heart the story-filled vintage items I have picked up there over the years. So, technically not free if you end up bartering for a preloved treasure, which I'm sure you will :) But it's always worth it.
Image credit: Ippo e dixon
I personally can't think of a better way to spend a sunny cold winter afternoon in London, than feeling creatively inspired wandering the streets of Shoreditch. The street art here is some of the best in the world, and you can't help but pull out your phone to snap some seriously inspiring and Instagrammable shots. This guide here features all the best bits, so check it out.
Image credit: Culture Trip
Ok this is the most touristy 'to do' on my list, but I've included it for good reason. For some epic views of the London Skyline, without the crazy price tag, head up to the dizzying heights of the  Sky Garden ~ London's Highest Public Garden ~ it's your best bet, for sure. Free access tickets get released every Monday so get in quick. It's worth it I promise.
Image credit: Sky Garden 
Slightly less famous, this buzzing art centre housed within a large Neoclassical complex and set around a beautiful 18th-century courtyard is a place where you can discover art exhibitions, live music, outdoor film screenings and winter ice skating. It's located in central London, near Covent Garden, and while entry is free, some exhibits charge an entry fee. This architectural masterpiece is a great way to spend a day in the city. I often get inspired to sketch or take photos here, so be sure to bring your art supplies if you are also that way inclined. 
Image Credit: somersethouse.org.uk
For a polar opposite experience, but still art-related, House of Vans in Lambeth (which has just reopened this January after 15 months of hiatus due to the pandemic) is a place where imagination lets loose over concrete bowls, art installations, workshops, concert stages, and of course, their free cinema. It even houses London's only indoor skate park! Check out their latest schedule of events ~ there's something to entertain the whole family for sure, even if it's just watching a film or the crew of skaters show off their skills on their boards. 
Image credit: Southbanklondon.com 
Love music? Love free live music? Yeah, me too :) These free lunchtime concerts feature an eclectic range of musicians from classical to pop (rather than choral hymns) who perform for tourists, students and or those simply wanting some musical respite on their lunch break. Whilst working in London back in the day, I often found myself here to enjoy my lunch away from my desk. Nurturing new musical talent is the aim of the game ~ so the type of music is not necessarily what you'd expect to hear in this medieval setting, which makes the experience even more beautiful.
Image credit: tripadvisor.co.uk 
If you have more than a lunchbreak's amount of time, then this 791 acres of meadows and woodland within the city is the perfect respite from the buzz of urban life. This guide here gives you 3 walks to do ~ I've only done of these myself but I'm itching to give the other two a go someday. Fresh air and greenery as far as the eye can see ~ you're sure to forget you're even in London!
Image credit: londonxlondon.com
Staying on the theme of music, but this time it's a DIY option! Six secret street pianos dotted around the city holding the simple invitation to "Play me, I'm Yours", I suggest it's time to get your fingers tickling those ivories, no matter what your experience level. It's all about fun and creative expression, so go belt out some tunes or listen to others do their thing ~ the choice is yours. Either way, it's fun and free.
Image credit: singlondon.org
Prefer more of a comedic experience? Then you can't go past an always free, always funny evening spent at the Angel Comedy Club ~ a London comedy institution where you can catch free top-notch comedy every night above the Camden Head pub. It's free if you don't want to enjoy a beer alongside your laughs.
Image credit: Joey Barone 
Definitely 100% free (and refreshing for the body and mind) is a beautiful stroll along the Regents Canal. Starting in Little Venice and finishing on the River Thames, this 9-mile path along the waterway can be described as a city walk through the backdoor, catching London in private, with its slippers on. And I don't know about you but I love experiencing a different viewpoint of a place where you think you've seen it all before.
Image credit: aladyinlondon.com
And if walking is your thing, the designer in me also personally thoroughly enjoyed this great self-guided walking tour, where architecture (rather than water) is the main focus of the day, leading you to some of the City's most important, impressive and very diverse range of famous buildings. Only 90 minutes, if you don't stop for pub breaks or Insta opportunities :)
Image credit: Londontopia.net
Talking of Insta opportunities, this small alley (with huge personality) in London's Covent Garden between Shorts Gardens and Monmouth Street, opens into the most colourful city courtyard I've ever laid eyes on. In one of London's prettiest streets, you'll find a micro-village full of independent restaurants, bars, cafés and shops, so as long as you can resist getting out your wallet, this is a fun way to spend an hour or two, even just for the creative inspiration and photo ops.
Image credit: Wikipedia
And if beautiful buildings and bookshops are your jam (surely by now you can tell they're mine?), then you must do Cecil Court. Nicknamed Booksellers Row, this place is packed with twenty-odd secondhand bookshops and antiquarian booksellers, so it truly is a paradise for literature lovers.  Like a step back in time but just minutes from Leicester Square, I've spent many a peaceful winter's evening strolling and browsing the book covers on this historic road.
Image credit: Vanilla Magazine
Did you know that London has one last remaining operational windmill in the heart of the city? Yes, this quirky little building not only houses a modern-day flour mill still churning out London's most authentic gluten, but also operates as a community centre, offering education programmes, creative classes, and even free outdoor tai chi and gardening groups. I adore supporting small independent community initiatives, who doesn't? So be sure to support this place and it's awesome crew.
Image credit: Brixton Windmill 
And if you're seriously in need of some movement after a more sedentary festive season (did everyone else's jeans also shrink the latest wash? haha), then there are always a HOST of free yoga classes going on around the city. My addiction to yoga often burns a hole in my pocket, so I try to check out these free options when I visit London, especially as the outdoor experience (provided London weather behaves!) often provides a refreshingly alternative viewpoint of the city.
Image credit: Broke in London
And talking about burning off some of that Christmas pudding, there is also the awesome crew who run this free rollerskating group. So don your skates and roll off to this fun-filled and FREE Friday night or Sunday afternoon street skate group in central London. Rollerskating is experiencing a serious comeback these days and for good reason. So get rolling!
Image: londonist.com
————
So there we have it! My top 25 things to do in London ~ not your average list of tourist activities, but a seriously fun and unique new way to experience the city without spending a penny!
And so if you check out some of my suggestions, please DM me on Instagram and let me know how you got on!
And if you've already done the London thing, and are now looking for some city-themed art to grace your walls and remind you of your adventures, be sure to check out my London Skyline Print and my London City Map Print here.
Thanks for reading and happy travels! 
Amy M x 
HI I'M AMY M, THE ARTIST BEHIND 'TRAM'. A MAKER OF UNIQUE TRAVEL ART, THAT HELPS YOU CREATE A HOME FULL OF DAILY REMINDERS OF YOUR OWN EPIC ADVENTURES.
Eternal gypsy. Tiny-house-on-wheels dweller. Mama of 2 wild, barefoot young girls. Animal lover & advocate. Self-confessed stationery nerd. Solopreneur with Big Plans.

Thanks so much for stopping by. It's so nice to have you along for the ride.
LEARN MORE HERE
DOWNLOAD YOUR FREE 'HOW TO CREATE YOUR OWN GALLERY WALL' GUIDE HERE...
JOIN THE RIDE ON the 'GRAM